Best Water Leak Detection in Temecula
Water leaks can cause extensive damage to your home and raise your utility bill substantially. In the Temecula area, such leaks can be even more costly due to the drought conditions.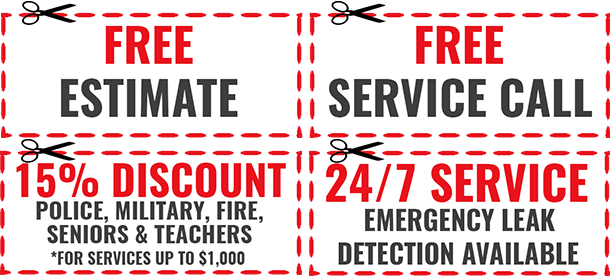 According to the Rancho California Water District, the average home in California wastes 31 gallons daily due to leaks. For some homeowners, this loss could cause them to exceed their water budget and incur a hefty fine. Before an elusive leak can be repaired, however, it must first be found – this is where a reputable leak-detection service provider can help.
What Causes Water Leaks?
Leaks can be caused by a number of different things. Age is one factor since pipes will degrade over time. Pipes that were installed many years ago are vulnerable to leaks as they were made of inferior materials. The newer materials are more resilient and reliable. A sudden change in the weather is a common culprit as it may result in stress on your pipes. Unstable soils and poor construction quality can also lead to water leaks.
How Can I Tell if I Have a Water Leak?
In many cases, water leaks are first detected through increased utility bills. The water bill may be higher than normal, and if the leak involves hot water, the gas or electric bill for powering the water heater may also increase. You may be able to hear water flowing through the pipes even though all faucets and appliances are off. It may also seem that your water heater is operating continuously.
Sometimes, a structural issue may alert you of a water leak. Wet spots may appear on or near exterior stucco. On the interior, you might notice sagging drywall or damp spots on the wall or ceiling. If a pipe carrying hot water is leaking, you might notice locations on the floor that seem unusually warm or hot. Floors or walls may have spongy or soft spots, or you may find mold or mildew growing on them in unusual locations. You may also be able to smell a foul odor around drains, or you may notice a musty smell in a particular room or area.
What Should I do if I Have a Water Leak in My Home?
If there is a water leak in your home or business, you should call a professional as soon as possible to avoid long-term damage that could result in much more extensive and costly repairs. Finding the source of the leak is essential, but it is not something that is easily accomplished without the proper experience and equipment. Our service technicians use specialized leak detectors incorporating the latest technologies to test your walls and floors to determine the exact nature of your leak. We have professionals available 24/7 to help.
Call us now at (951) 977-4580 to schedule an appointment before the damage grows more costly!

Why Use Us?
Experienced leak detectors and water damage specialists
We bill your insurance DIRECT for all water damage restoration
Save $500 – $1000 OFF your insurance deductible
Licensed workers, no liability for you
Our courteous, professional staff will treat you like family, satisfaction guaranteed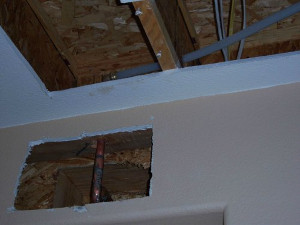 How does Water Leak Detection Work?
Leak detection requires the expertise of a professional. We use innovative leak detection technology and methods to determine the precise location and source of the leak. Our detection techniques allows us to recommend the most effective way to repair the problem. The technology we use senses the slightest leaks and discrepancies in flow so that our repair is comprehensive. We are dedicated and equipped to diagnose leaks quickly and accurately to resolve the problem with the least disruption to you. Remember that even if it's "just a leak," it can cause increased energy bills and property damage.
Non-invasive Leak Detectors
By using our industry-leading non-invasive techniques we can enter your home or business and quickly find the source or cause of a water leak.  Sophisticated technology like infrared leak detectors are used to quickly locate and identify potential leak sources.  Even the tiniest crack or inconsistency in a pipe will be pinpointed by our expert leak detectors to ensure an accurate repair.  Also, we avoid having to tear apart walls and floors just to investigate for water damage sources using traditional "trial-and-error" methods.
Residential Leak Detection often involves finding leaks caused by faulty toilets, old pipes, and other sources of water common to a residence.  We will come to your location and find the leak fast without disrupting your home.
Commercial Leak Detection is the process of finding a leak inside a commercial business building, very similar to the residential leak detector process.  Commercial leak detection generally involves a larger area to cover, but with more access to critical areas to quickly identify the water source.
Leaking Toilets, Showers, & Faucets
The amount of water that flows through toilets and showers is extensive, and thus a leak in any of these areas can result in wall leak or ceiling leak that cause expensive water bill.  Not only that, but the risk of water damage to the rest of the building is quite high.  Just a slow leaking toilet can waste literally thousands of gallons of water per month.  This type of leak detection can usually be identified quickly, it can even be accompanied by audible sounds of the leak after a toilet is flushed, faucet turned off, etc.
Water Line Leaks
A faulty water line can occur within a building, or outside the building underground where pipes come into the property.  Detecting a leak that is inside the building is generally easier as it is generally accompanied by visual evidence of the problem.  Other more advanced methods of leak detection in this case can involve testing water pressure levels at various parts of the building so that the location of the leak is narrowed down to one location.
No matter what the cause, a water line leak requires a plumbing professional to both find and repair it.  Water lines often have large amounts of pressure and can cause extensive damage if not repaired correctly.
Why Choose Us?
We specialize in locating and repairing leaks using non-invasive detection technology. Although we offer many services in the field of plumbing repair, our primary focus is on leak detection. You need to make sure any professional plumber or leak detection specialist is equipped with the right equipment when identifying a leak in your house; otherwise, you are risking unnecessary damage to your home from tearing apart walls and ceiling on what may prove to be a fruitless effort to find the leak. Leaving a damaged water line in the floor that's still active usually results in a second slab leak on the same line. We will advise on the best way to fix the problem.
L&S TurnKey Plumbing & Restoration is a local company offering services 24/7. Contact us today to receive the professional help you need to handle your water leaks before they cause more damage.
Our Customers Love Us! Read Our Reviews

"I was/am extremely satisfied with the manner in which Nick resolved my slab leak. I was impressed with his courteous and professional demeanor from the time I greeted him at the door. He is extremely knowledgeable about plumbing issues and a couple of other things that I needed repaired. I highly recommend him for your plumbing needs. He will be my "go to person" from hence forth. Thank you Nick!"
~ Clifton P.

"I have used L&S twice now and both times they have been honest and professional. Chris had someone out to me same day both times as well. They went over everything thoroughly with me to help me understand the issues and how they would be fixed. I will definitely be using L&S for any future plumbing issues!"
~ Gina R.

"I recently had a slab leak and I called TurnKey Plumbing to come and trace the leak. When Nate and Brian arrived they introduced themselves to me and explain explained exactly what they will be doing to locate where the leak was coming from. They were able to locate the where the leak was coming from and took immediate action to stop it. They were very professional and courteous and before they left they made sure that the area they were working was cleaned."
~ Fernando A.
We provide water leak detection services in these areas:
Southwest Riverside County
Hemet | Menifee | Murrieta | Perris | Temecula | Wildomar
Orange County:
Anaheim Hills | Costa Mesa | Dana Point | Fountain Valley | Huntington Beach | Mission Viejo |
Newport Beach | Orange County | Santa Ana
San Diego:
Carlsbad | Mira Mesa | Oceanside | Poway